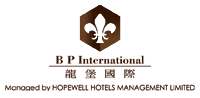 Hopewell Hotels Management - B P International
Located in the heart of Tsim Sha Tsui in the Kowloon Peninsula, B P International is close to the lush, calming green of Kowloon Park and overlooks the Hong Kong' iconic Victoria Harbour. Famous shopping, business and leisure centres are nearby – Park Lane Shopper's Boulevard, Harbour City, China Hong Kong City – and all are within walking distances.
Guest Room
The 25-storey B P International a total of 529 guest rooms, all designed and furnished for your comfort and convenience. Each room is well-lit and equipped with an electronic keycard system and a full range of modern facilities, including WiFi Internet access. Non-smoking rooms and rooms for the disabled are provided as part of our effort to cater to your individual needs. Most of the rooms have a view of the Hong Kong's iconic and beautiful Victoria Harbour or the lush green of Kowloon Park against the backdrop of our city's spectacular skyline.
Contact Information